CEP GT864-QUAD Terminal
Part no.:
GT864QUAD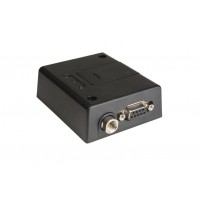 Product description
GT864 QUAD Terminal is a self contained unit featuring the latest GSM/GPRS technology from Telit.
GT864 QUAD Terminal is an excellent product for system integrators whose focus is on application development using a ready to start modem with standard connectors. The audio interface handles voice calls and offers connectivity with a head set.
Technical specifications
Product features


Quad Band GSM/GPRS
GSM 850/900 Power class 4 (33dBm)
GSM 1800/1900 Power class 1 (30dBm)
Mobile Class B
Extended Measurement Reporting
Compliant with 3GPP Release 99 Protocol Stack

Interfaces

RS232 9pin DSub
Audio microphone / loudspeaker (USB mini connector)
Power: 5 - 36VDC (RJ11)
Antenna: 50 Ohm (FME male)
SIM card reader: 1,8V/3V interface with SIM detection
Control by AT commands (GSM 27.005, 27.007 plus
proprietary commands)

Data features

GPRS Class 10
Multiple simultaneous PDP contexts
GPRS Coding Schemes CS1-CS4
Transparent and non-transparent CSD up to 9.6 kbps
Modem Type; V21, V22, V23, V22bis, V26ter, V32,
V34, V24
V42bis compression
GSM supplementary services supported
GSM 27.010 Multiplexing Protocol
USSD
Fax Group 3, Class1

Firmware update over the air (FOTA)

Firmware update over the air based on Telit Service TFUS;
only the delta will be sent via GPRS; GT864 has to be preregistered
to the database.

SMS

Text and PDU mode
Point to point mobile originated and mobile terminated SMS (MT/MO)
SMS Cell Broadcast

Internet protocol

TCP/IP protocol stack
Extensive AT Command access to TCP/IP stack
Multiple sockets with listening/server capability
IPv4 protocol
Dynamic & Static IP address allocation
PPP protocol (PAP)
UDP protocol
FTP client File Transfer Protocol (file transfers)
SMTP
E-mail

Audio

Telephony, emergency calls
HR, FR, EFR, AMR (Half Rate, Full Rate, Enhanced Full
Rate and Multi Rate voice codec's)
Superior echo cancellation /& noise reduction
DTMF

Other features

SIM application toolkit Class 2
3 x LED for status indication
Power supply voltage measurement via AT-command
SIM phonebook
Fixed Dialing Number (FDN)
Real time clock
IRA character set
Jamming detection & report
I/O variant with 4 digital inputs, 1 analogue input, 1 digital output and Python programming capability available (GT864 PY Terminal)

Physical characteristics

Overall dimensions (excluding
connectors): 77 x 67 x 26 mm
Weight ~ 100g
-30°C to +75°C (operational)
-40°C to +85°C (storage temp.)

Approvals

E-certificate
CE Approval
FCC Approval
RoHS
Recommended accessories
Following accessories
are recommended
to be purchased along with this product as they might be required for operation and may not be included in this product.