SIMCom SIM900D
Part no.:
S2-1041Y-Z090E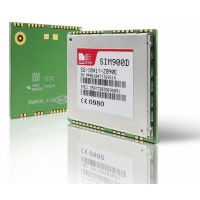 Product description
SIMCom presents an ultra compact and reliable wireless module SIM900D. This is a complete Quad-band GSM/GPRS module in a SMT type and designed with a very powerful single-chip processor integrating AMR926EJ-S core, allowing you to benefit from small dimensions and cost-effective solutions. Furthermore, SIM900D can be compatible with SIM340DZ.
Featuring an industry-standard interface, the SIM900D delivers GSM/GPRS 850/900/1800/1900MHz performance for voice, SMS, Data, and Fax in a small form factor and with low power consumption. With a tiny configuration of 33mm x 33mm x 3 mm, SIM900D can fit almost all the space requirements in your M2M applications, especially for slim and compact demands of design.
Technical specifications
General features

Quad-Band 850/ 900/ 1800/ 1900 MHz
GPRS multi-slot class 10/8
GPRS mobile station class B
Compliant to GSM phase 2/2+
– Class 4 (2 W @850/ 900 MHz)
– Class 1 (1 W @ 1800/1900MHz)
SAIC (Single Antenna Interference Cancellation)
Dimensions: 33* 33 * 3 mm
Weight: 6.4g
Control via AT commands (GSM 07.07 ,07.05 and SIMCOM enhanced AT Commands)
SIM application toolkit
Supply voltage range : 3.2 ... 4.8V
Low power consumption: 1.0mA(sleep mode&BS-PA-MFRMS=9)
Operation temperature: -40°C to +85 °C

Specification for Fax

Specification for GPRS Data

GPRS class 10: max. 85.6 kbps (downlink)
PBCCH support
Coding schemes CS 1, 2, 3, 4
PPP-stack

Specification for CSD Data

CSD up to 14.4 kbps
USSD
Non transparent mode

Specification for SMS

Point to point MO and MT
SMS cell broadcast
Text and PDU mode

Software features

0710 MUX protocol
Embedded TCP/UDP protocol
FTP/HTTP
FOTA
MMS
Embedded AT

Specification for Voice

Tricodec
– Half rate (HR)
– Full rate (FR)
– Enhanced Full rate (EFR)
AMR
- Half rate (HR)
- Full rate (FR)
Hands-free operation
Echo suppression

Interfaces

Interface to external SIM 3V/ 1.8V
Analog audio interface
RTC backup
SPI interface (option)
Serial interface
Antenna pad
I2C
GPIO
PWM
ADC

Compatibility

AT cellular command interface

Approvals

CE, FCC, RoHS, PTCRB, GCF
IC, ICASA, TA, REACH, OCD, AT&T
Recommended accessories
Following accessories
are recommended
to be purchased along with this product as they might be required for operation and may not be included in this product.

€ 0.59