Telit GM862-GPS Module
Part no.:
GM862GPS731T992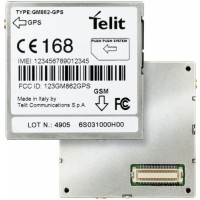 Product description
The new GM862-GPS module is at the cutting edge of the Telit product line. It combines superior performance in quad-band GSM/GPRS modem functionality with the latest 20-channel high sensitivity SiRFstarIII™ single-chip GPS receiver. Pin-to-pin compatibility to the previous GM862-GPS module enhances and extends the functionality of new and existing GPS applications.

With its ruggedized design, extended temperature range, integrated SIM card holder, and industrial-grade connectors, the Telit GM862-GPS is the ideal platform for mobile applications in areas such as telematics, fleet management, tracking, security, and vehicle navigation. The new GPS receiver features low power consumption with position resolution accuracy of less than 2.5m, SBAS (WAAS and EGNOS) as well as high sensitivity for indoor fixes.
These features combined with the available Python™ application development environment translate into a very cost effective and feature rich platform quite capable of becoming the total solution for the complete customer application. Additional features including jamming detection, integrated TCP/IP protocol stack, and Easy Scan® offer unmatched benefits to the application developer without adding cost.
Technical specifications
Product features

Quad-band EGSM
850 / 900 / 1800 / 1900 MHz
Output power
Class 4 (2W) @ 850 / 900 MHz
Class 1 (1W) @ 1800 / 1900 MHz
Control via AT commands according to
GSM 07.05, 07.07 and Telit enhancements
Supply voltage range: 3.22 – 4.5 V DC
(3.8 V DC recommended)
GSM power consumption (typical values)
- Power off: ‹ 26 uA
- Idle (registered, power saving): 2.6 mA
- Dedicated mode: 200 mA
- GPRS cl.10: 370 mA
Serial port multiplexer GSM 7.10
SIM access profile
Sensitivity:
-107 dBm (typ.) @ 850 / 900 MHz
-106 dBm (typ.) @ 1800 / 1900 MHz
Dimensions: 43.9 x 43.9 x 6.9 mm
Weight: 20 grams
Extended temperature range
- 40°C to +85°C (operational)
- 40°C to +85°C (storage temperature)
RoHS compliant
TCP/IP stack access via AT commands

GPS Receiver

GPS power consumption:
Operating current: 75 mA,
including 20 mA for the antenna LNA
High sensitivity for indoor reception,
up to -159 dBm (with active antenna)
Accuracy ‹ 2.5 m
Extremely fast TTFF's at low signal levels
Hot start ‹ 3 s
Warm start ‹ 35 s
Cold start ‹ 35 s
200,000+ effective correlators
Supports 20-channel GPS, L1 1575.42 MHz
GPS NMEA 0183 output format
Date WGS-84
Dedicated GPS AT commands
SBAS (WAAS and EGNOS) support
Low power consumption

Interfaces

50-pin Molex connector
13 I/O ports maximum
Analog audio (balanced and unbalanced)
1 A/D converter, buzzer output
ITU-T V.24 serial link through UART:
- CMOS level
- Baud rate from 300 to 115,200 bps
- Autobauding from 2,400 to 57,600 bps
50 Ohm MMCX antenna connector
On board SIM card holder, 1.8V / 3V with
real-time detection

Audio

Telephony, emergency call
Half rate, full rate, enhanced full rate and
adaptive multi rate voice codecs (HR, FR, EFR, AMR)
Superior echo cancellation & noise reduction
Handset & hands-free operations
DTMF

Approvals

Fully type approved conforming with R&TTE
CE, GCF, FCC, PTCRB, IC, Anatel

SMS

Point-to-point mobile originated and mobile terminated SMS
Concatenated SMS supported
SMS cell broadcast
Text and PDU mode

Circuit switched data transmission

Asynchronous transparent circuit switched data (CSD) up to 14.4 kbps
Asynchronous non-transparent CSD up to 9.6 kbps
V.110

GPRS Data

GPRS class 10
Mobile station class B
Coding scheme 1 to 4
PBCCH support

Fax

GSM Supplementary

Call forwarding
Call barring
Call waiting & call hold
Advice of charge
Calling line identification presentation (CLIP)
Calling line identification restriction (CLIR)
Unstructured supplementary services mobile originated data (USSD)
Closed user group

Additional features

SIM phonebook
Fixed dialing number (FDN)
Real-time clock
Alarm management
Battery management
Network LED support
IRA character set
Jamming detection & report
Embedded TCP/IP stack, including TCP, IP, UDP, SMTP and FTP protocols
TFMS (Telit Firmware Management Services) Over-the-Air update

Python application resources

Python* script interpreter (module takes the application code directly in the Python* language)
Memory: 1.9 MB of NV memory for the user scripts and 1.2 MB RAM for the Python* engine usage
Over-the-air application SW update
IIC Bus and SPI Bus controlled in Python*

Telit's EASY Features

EASY SCAN ® automatic scan over GSM frequencies (with or without SIM card)
Recommended accessories
Following accessories
are recommended
to be purchased along with this product as they might be required for operation and may not be included in this product.