Cinterion EU3-E Module
Part no.:
L30960-N1700-A100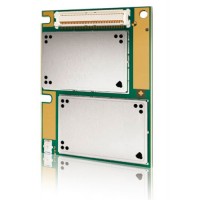 Product description
The Cinterion EU3 UMTS & HSDPA wireless module provides a smart investment today for the wireless connectivity of the future. By enabling a full range of M2M functions and features, EU3 protects your current technology investment while allowing room for growth to the 3G cellular networks of the future.
EU3 offers the perfect solution for the challenging long term requirements of industrial applications such as automatic meter reading (AMR) solutions. Dual band frequencies including newly added UMTS900 means EU3 can support applications designed for use on evolving GSM networks for many years to come. By enabling UMTS functionality on the 900 MHz band, EU3 offers increased coverage area for high speed communications even in very remote locations. EU3 offers GPRS/EDGE functionality to support portable, mobile and fixed applications where 3G coverage is not available.
Specifically designed for M2M applications, Cinterion's EU3 offers extremely fast data speeds on serial and USB interfaces for quick and easy data transfer. The 10 GPIO (general purpose input/output) pins guarantee the highest possible flexibility to connect customer application sensors.
Technical specifications
General features

Dual-Band UMTS: 900 / 2100 MHz
Dual-Band GSM: 900 / 1800 MHz
UMTS 3GPP release 5
GSM release 99 / release 4
EDGE (E-GPRS) multi-slot class 10
GPRS multi-slot class 10
Output power:
Class 4 (2 W) for GSM900
Class 1 (1 W) for GSM1800
Class E2 (0.5 W) for EDGE900
Class E2 (0.4 W) for EDGE1800
Class 3 (0.25 W) for UMTS
SIM Application Toolkit, release 99
Control via AT commands (Hayes, 3GPP TS
27.007 and 27.005)
TCP/IP stack access via AT commands
Supply voltage range 3.3 - 4.2 V
Power consumption:
Sleep @ GSM Mode: typical < 2.2 mA
Sleep @ UMTS Mode: typical < 2.0 mA
Dimensions 33.9 x 44.6 x 5.0 mm
Operational temperature range: -40°C to +85°C
RoHS compliant
Weight approx. 11g



Specifications

HSDPA data rates:
DL: max. 3.6 Mbps, UL: max: 384 kbps
UMTS data rates:
DL: max. 384 kbps, UL: max. 384 kbps
EDGE class 10:
DL: max. 237 kbps, UL: max. 118 kbps
GPRS class 10:
DL: max. 85.6 kbps, UL: max. 42.8 kbps
Full PBCCH support
CSD data transmission 14.4 kbps, V.110
USSD support
SMS text and PDU mode
Fax Group 3, class 1
Support of video calls
Voice support:
speech codec HR, FR, EFR and AMR
Handset, Headset and Handsfree modes

Special features

Multiplex driver according 3GPP 27.010 for
Microsoft® Windows XP™, Windows Vista™
and Windows 7™
Customer IMEI on request
Prepared for Component SIM

Interfaces

U.FL-R-SMT 50 Ω antenna connector
80-pin board-to-board connector
- Power supply
- Audio: analog
- High speed serial interface (up to 460 kbps)
- USB 2.0 high speed interface (up to 480 Mbps)
- UICC/SIM card interface 3V, 1.8V
- 10 GPIO pins
- ADC port

Approvals

R&TTE, GCF, CE
Local approvals and network operator
certifications
Recommended accessories
Following accessories
are recommended
to be purchased along with this product as they might be required for operation and may not be included in this product.