SIMCom SIM5215
Part no.:
S2-10417-Z0709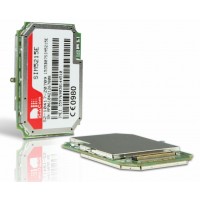 Product description
The SIM5215 series is a Multi-Band WCDMA/GSM/GPRS/EDGE module solution which supports WCDMA 384kbps for
data transfer.
With abundant application capability like embedded LUA script, TCP/UDP/FTP/HTTP/SMTP/POP3 and MMS, the module provides much flexibility and ease of integration for customer's application. Its unique camera/video call feature shall add value to security solutions. It is ideal for a wide range of products including AMR, Gateway, Telematics, Tracking solution, Security solution and much more.
Technical specifications
General features

SIM5215A - Dual-Band UMTS 850/1900MHz
Quad-Band GSM/GPRS/EDGE 850/900/1800/1900MHz
Dual-Band UMTS 900/2100MHz
Tri-Band GSM/GPRS/EDGE 850/900/1800MHz
GPRS multi-slot class 12
EDGE multi-slot Class 12
WCDMA 3GPP release 99
Output power
- UMTS 1900/850: 0.25W (for SIM5215A)
- UMTS 2100/900: 0.25W (for SIM5215E)
- GSM850/GSM900: 2W
- DCS1800: 1W
- PCS1900: 1W (for SIM5215A)
Control Via AT Commands
Supply voltage range: 3.3V~ 4.2V
Operation temperature range: -30 ℃ to +80℃
Dimension: 36×26×4.7(mm)
Weight: 7g

Support embedded Script Language

LUA Script Language
WCDMA
- Max.384Kbps(DL), Max.384Kbps(UL)
EDGE
- Max. 236.8Kbps(DL),Max.118Kbps(UL)
GPRS
- Max. 85.6Kbps(DL), Max.42.8Kbps(UL)
CSD
- GSM data rate 14.4Kbps
- WCDMA data rate 57.6Kbps

Specification for SMS

Point to point MO and MT
Text and PDU mode

Specification for CSD

Specification for Network Indetity and Time Zone

Specification for Video call

DTMF on H245
Support standard WCDMA 64kbps(CS) Video
call

Other features

USB Driver for Microsoft Windows 2000/XP/Vista/ 7
USB Driver for Linux 2.6.16
Firmware update via USB
MMS
TCP/IP
FTP/HTTP/SMTP/POP3
FOTA
USB Audio

Interfaces

70pin board-to-board connector
Antenna connector
USB2.0
UART
USIM card
ADC
Digital Camera
GPIO
I2C
Micro-SD card
Recommended accessories
Following accessories
are recommended
to be purchased along with this product as they might be required for operation and may not be included in this product.

€ 0.59