Telit GT863-3GG Terminal
Part no.:
4990150124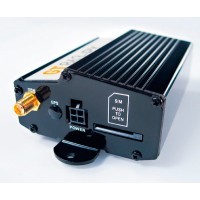 Product description
The new GT863-3GG terminal is a complete encased modem solution for wireless m2m applications based on the triple band 850/1900/2100 UMTS/HSDPA UC864-G core engine with integrated SIM holder, as well as additional features.
The GT863-3GG is also fully backward compatible to existing EDGE and GSM/GPRS networks through accomplished quad-band radios. Offering extended operating temperature, integrated TCP/IP stack, direct control by standard serial RS-232 interface or USB 2.0 interface, and with a broad supply voltage range (5-30 DC), the GT863-3GG terminal is a complete stand-alone solution for m2m applications that require high speed data exchange and worldwide global coverage.
The GT863-3GG new generation of Telit 3.5G terminals is provided with Windows and Linux drivers that significally ease the integration in existing applications.
Technical specifications
Features

HSDPA 7.2 Mbps
UMTS/HSDPA (WCDMA/FDD)
850/1900/2100 MHz
Quad-band EGSM 850 / 900 / 1800 / 1900
GPRS multi-slot class 12
EDGE multi-slot class 12
Output power
- Class 4 (2 W, 33 dBm) @ GSM 850 / 900
- Class 1 (1 W, 30 dBm) @ GSM 1800 / 1900
- Class 3 (0.25 W, 24 dBm) @ UMTS
- Class E2 (0.5 W, 27 dBm) @ EDGE 850 / 900
- Class E2 (0.4 W, 26 dBm) @ EDGE 1800 / 1900
Control via AT commands according to GSM
07.05, 07.07 and Telit enhancements
SIM access profile
Supply voltage range: 5-30 V DC
TCP/IP stack access via AT commands
Sensitivity:
-107 dBm (typ.) @ 850 / 900 MHz
-106 dBm (typ.) @ 1800 / 1900 MHz
- 108.2 dBm (typ.) @ 850 / 1900 / 2100 MHz
Dimensions: 83 x 64 x 33 mm
Weight: 180 grams
Temperature range
-20°C to +65°C (Operational)
-40°C to +85°C (Storage temperature)
RoHS compliant

GPS Receiver

GPS power consumption:
Operating current: 100 mA plus 20 mA for the external antenna
High sensitivity for indoor reception, up to -157 dBm (with active antenna)
Accuracy ‹ 3 m
Extremely fast TTFF's at low signal levels
Hot start autonomous ‹ 1 s
Warm start autonomous ‹ 32 s
Cold start autonomous ‹ 40 s
Supports 12-channel GPS, L1 1575.42 MHz
GPS NMEA 0183 output format
Date WGS-84
Dedicated GPS AT commands
Low power consumption

Interfaces

Sub-D 9-pin RS-232 connector
Power: 5 to 30 VDC
6-pole RJ11 plug (female)
3 GPIOs, 1 ADC
SMA connector (female) for GSM antenna
SMA connector (female) for GPS antenna
SIM card holder: 1.8 V / 3 V interface
Mini USB 2.0 Interface

Data

HSDPA
- Downlink up to 7.2 Mbps
- Uplink up to 384 kbps
WCDMA Downlink/uplink up to 384 kbps
EDGE
- Downlink up to 236.8 kbps
- Uplink up to 118 kbps
GPRS
- Downlink up to 85.6 kbps
- Uplink up to 42.8 kbps
- PBCCH support
CSD
- Downlink/uplink up to 14.4 kbps
Available modes of operation
- AT commands on UART & data on USB
- AT commands on USB & data on UART

Approvals

Fully type approved conforming with R&TTE directive
CE

SMS

Point-to-point mobile originated and mobile terminated SMS
Concatenated SMS supported
SMS cell broadcast
Text and PDU mode

Fax

Additional features

SIM phonebook
Fixed dialing number (FDN)
Real-time clock
2x LED for status indication
IRA, UCS2 and GSMDefaults
Jamming detection & report
Embedded TCP/IP stack, including TCP, IP, UD P, SMTP and FTP protocols
TFMS (Telit Firmware Management Services) Over-the-Air update

Telit EASY Features

EASY SCAN ® automatic scan over GSM frequencies (with or without SIM card)
Recommended accessories
Following accessories
are recommended
to be purchased along with this product as they might be required for operation and may not be included in this product.