Cinterion Siemens Terminals 12V Battery pack
Part no.:
TERM-BP-12V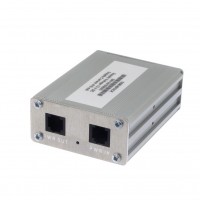 Product description
Backup battery pack for Cinterion TC35i / MC35i / TC65T Terminals contains NiMH storage battery with automatic charging placed in metallic housing with DIN 35 mm mounting posibilities (with 2 pcs DIN plastic holders).
Power supply cable to device is enclosed.
Duration time in STAND-BY mode (connected to GSM network) is about 1 hour. For charging use power supply 12 V DC
Technical specifications
Measurements

Width: 64mm
Height: 30mm
Length: 100mm
Weight: 350g

Input

Voltage: 11.5 - 13V
Flow: 0.4A

Output

Durance

Battery durance in stand-by: 60min

Temperature conditions

Store temperature - 40 to +85 °C
Operation temperature 0 to +65 °C
Recommended accessories
Following accessories
are recommended
to be purchased along with this product as they might be required for operation and may not be included in this product.