Leadtek LR9552 TTL GPS Module
Part no.:
LR9552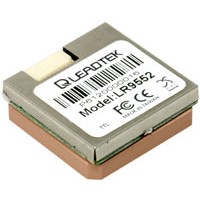 Product description
The Leadtek LR9952 module is a high sensitivity and very compact module with integrated antenna, with built in GPS receiver circuit and TTL level serial inteface. This 20-channel global positioning system (GPS) receiver is designed for a wide range of OEM applications and is based on the fast and deep GPS signal search capabilities of SiRFStarIII™ architecture.
Note: This is TTL level version of LR9952 module. If you're rather interested in RS-232 version please refer to Leadtek LR9952 RS-232 GPS Module
Technical specifications
Hardware and Software features

Based on the high performance features of the SiRFStar III/LP single chip
Compact module size for easy integration: 25x25x8.9 mm (with 4 mm patch antenna)
Fully automatic assembly: reflow solder assembly ready
Hardware compatible with SiRF GSW3.2 serial software

Performance features

Cold/Warm/Hot Start Time: 1/38/45 sec.
Reacquisition Time: 0.1 second
RF Metal Shield for best performance in noisy environments

Intefaces

TTL level serial port for GPS communications interface
Protocol: NMEA-0183/SiRF Binary (default NMEA)
Baud Rate: 4800, 19200, or 57600 baud (default 4800)
System connector
Recommended accessories
Following accessories
are recommended
to be purchased along with this product as they might be required for operation and may not be included in this product.