Cinterion HC25
Part no.:
L30960-N1055-A200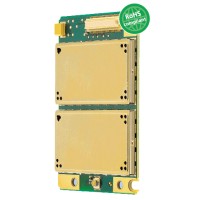 Product description
The HC25 provides HSDPA 3.6 Mbit/s download speed, Tri-Band UMTS/ HSDPA, Quad-Band GSM/GPRS/EDGE, an RIL/NDIS/USB driver for Microsoft® Windows Mobile™-based devices, and robust mounting and interfaces, including a serial and USB port. Beyond that, the HC25 offers on-board GPS functionality, making it a good choice for tracking applications, and meets the USA's E911 standard.
HSDPA (High Speed Downlink Packet Access) technology is a transmission standard based on the UMTS technology. This technology, in combination with full voice and data capability, a USB and serial interface, a RIL/NDIS/USB driver and connected via a rugged board-to-board connector, provides manufacturers with the opportunity to develop new devices and solutions within a very short time and at a low cost of ownership.
As a result, the HC25 enables applications to offer services like broadband internet and e-mail access, high-speed download of large files and streaming of videos or music. In addition, the HC25 comes with full type approval. It has also been approved by major network carriers around the world, including US operators.
Technical specifications
General features

Tri-Band UMTS/HSDPA (WCDMA/FDD)
850/1900/2100 MHz
Quad-Band GSM
850/900/1800/1900 MHz
EDGE (E-GPRS) multi-slot class 10
GPRS multi-slot class 10
UMTS/HSDPA 3GPP release 5
GSM 3GPP release 99
Output power:
Class 4 (2 W) for GSM850/900
Class 3 (0.25 W) for UMTS/HSDPA
Class E2 (0.5 W) for EDGE850/900
Class E2 (0.4 W) for EDGE1800/1900
Class 1 (1 W) for GSM1800/1900
Control via AT commands
(Hayes 3GPP TS 27.007 and 27.005)
SIM Application Toolkit (release 99)
Supply voltage range: 3.2 ... 4.2 V
Voltage switch off: 4.3 V
Power consumption:
Power down 50 μA
HSDPA @ +10dBm 420 mA
Temperature range
Normal Operation: -20°C to +65°C
Restricted Operation: -30°C to +75°C
Storage: -40°C to +85°C
Dimensions: 34 x 50 x 4.5 mm
Weight: approx. 10g
E911 functionality via Control Plane

Specification for HSDPA Data Transmission

max. 3.6 Mbps (DL), max. 384 kbps (UL)
UE CAT [1-6], 11, 12 supported
Compressed mode (3GPP TS25.212)

Specification for UMTS Data Transmission

UMTS: max. 384 kbps (DL & UL)


Specification for EDGE Data transmission

Class 10: max. 237 (DL), 118 (UL) kbps
Mobile station class B
Modulation and coding scheme MCS 1-9

Specification for GRPS Data transmission

Class 10: max. 85.6 (DL), 42,8 (UL) kbps
Mobile station class B
Full PBCCH support
Coding schemes CS 1-4

Specification for CS Data transmission

GSM CSD data rate 14.4 kbps, V.110
3G UDI data rate 64 kbps, X.31
Non-transparent and transparent mode

Specification for voice

Triple-rate codec for HR, FR and EFR
GSM & UMTS: Adaptive multi-rate AMR
DTMF supported
CEPT/ANSI supervisory tones supported
Handset, Headset, Handsfree modes
(improved handsfree quality)
TTY supported

Specification for SMS

Point-to-point MO and MT
SMS cell broadcast
Text and PDU mode

Approvals

R&TTE, GCF, CE, FCC, PTCRB, UL, IC
Local approvals and network operator certifications

Specification for fax

Specification for GPS

Tracks up to 13 satellites, L1 1575.42 MHz
Accuracy Position: 2.5 m CEP; 5.0 m SEP
Protocols: NMEA-0183 V2.3
E911 AGPS Control plane
GPS dedicated AT commands
Date WGS-84
Tracking sensitivity: -158 dBm (with active antenna)
Start-up Time: Hot start: <3s,
Warm start: 30s, Cold start: 30s
GPS active antenna supply: 3.3 V

Special features

NDIS/USB driver for Microsoft® Windows XP™ & Microsoft® Windows Vista™
RIL/NDIS/USB driver for devices based on Microsoft® Windows Mobile™ 6
Multiplex driver for Microsoft® Windows XP™ & Microsoft® Windows Vista™
USB driver for Microsoft® Windows CE 5.0
Customer IMEI as variant
Firmware update via USB & serial interface

Interfaces

U.FL-R-SMT 50 Ω antenna connector
Antenna pad
50-pin board-to-board connector
Power supply
Audio: 1 x analog
USB 2.0 full speed
UICC/SIM card interface 3 V, 1.8 V
Emergency-off & Network status
Serial Interface ASC0
Recommended accessories
Following accessories
are recommended
to be purchased along with this product as they might be required for operation and may not be included in this product.