Cinterion AC75i Quad-band EDGE module
Part no.:
L30960Y1000A220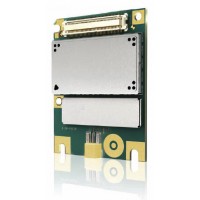 Product description
Cinterion Wireless Modules has a long history of successful products for automotive applications. Cinterion automotive grade products are designed to meet the requirements of the automotive industry offering special automotive features as well as compliance with all relevant quality standards such as TS16949. Additionally Cinterion offers a broad range of support packages and a full life cycle service concept.
The AC75i / AC65i represent the 6th generation of dedicated automotive modules offering advanced telematic features and are prepared to meet the requirements of the European eCall initiative. Both products are fully type approved including local network provider approvals creating a perfect basis for applications like toll collect, telematics, fleet management as well as emergency call, breakdown or roadside assistance.
Technical specifications
General features

Quad-Band
GSM 850/900/1800/1900 MHz
EDGE (E-GPRS) multi-slot class 12
GPRS multi-slot class 12
GSM release 99
Output power:
▫▫ Class 4 (2W) for EGSM850
▫▫ Class 4 (2W) for EGSM900
▫▫ Class 1 (1W) for GSM1800
▫▫ Class 1 (1W) for GSM1900
Control via AT commands
(Hayes 3GPP TS 27.007 and 27.005)
SIM Application Toolkit (release 99)
TCP/IP stack access via AT commands
Internet Services: TCP, UDP, HTTP, FTP,
SMTP, POP3
Supply voltage range: 3.2 ... 4.5 V
Charging control for Lithium batteries
Temperature range -40°C to +85°C
▫▫ Protection switch off
Dimensions: 33.9 x 45 x 3.3 mm
Weight: approx. 8.5 g

Specification for SMS

Point-to-point MO and MT
SMS cell broadcast
SMS over GPRS or CSD
Text and PDU mode

Specification for voice

Triple-rate codec for HR, FR, and EFR
Adaptive multi-rate AMR
Enhanced hands-free operation according
to VDA Specification
Echo cancellation, noise suppression
DTMF

Specification for EDGE Data transmission

EDGE class 12: max. 236.8 kbps (DL & UL)
Mobile station class B
Modulation and coding scheme MCS 1-9

Specification for GPRS Data transmission

GPRS class 12: max. 86 kbps (DL & UL)
Mobile station class B
PBCCH support
Coding schemes CS 1-4

Specification for CSD Data transmission

Up to 14.4 kbps
V.110
Non-transparent mode
USSD support

Over-the-air Update

Application SW: OTAP
Firmware: FOTA

Approvals

R&TTE, FCC, UL, IC, GCF, PTCRB,
e-mark, CE
Local approvals and network operator
certifications

Specification for fax




Interfaces

Rosenberger SMP 50 Ω antenna connector
for automotive environment
Antenna pad for contact springs
80-pin board-to-board connector
▫▫ Power supply
▫▫ Audio: 2x analog, 1x digital (PCM)
▫▫ 2x serial interfaces (ITU-T V.24 protocol, up to
921 kbps)
▫▫ USB 2.0 full speed
▫▫ SIM card interface 3 V, 1.8 V
▫▫ I2C bus and SPI bus
▫▫ ADC input
▫▫ DAC output with PWM
▫▫ Multiple dedicated GPIOs

Special automotive features

Prepared for European eCall
SIM Access Profile integrated
RLS monitoring (e.g. for jamming detection)
Advanced temperature management
Measurement of module temperature
Antenna diagnostic (up to 2 ext. antennas)
Emergency call at high temperature
IMDS listed & GASDL compliant
TS16949 development and manufacturing
RIL software for Microsoft® Windows
Mobile™ based devices
Multiplexer driver for Microsoft® Windows
Recommended accessories
Following accessories
are recommended
to be purchased along with this product as they might be required for operation and may not be included in this product.