Cinterion Siemens ES75i EDGE Modem
Part no.:
ES75i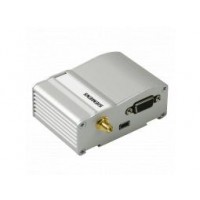 More product images
Product description
The EDGE Speed ES75i modem is based on GSM/GPRS Cinterion Siemens MC75i module with integrated EDGE technology. This modem handles highly data-intensive multimedia applications - such as downloading and streaming of audio and video data, transmission of digital photos and instant messaging services - with exceptional speed and reliability.
With Quad-Band capability, the EDGE Speed ES75i can be used in all the existing GSM networks in America, Europe and Asia, guaranteeing seamless communication. The user friendly software allows easy installation, GPRS connection, GSM connection with SMS functionality.
Technical specifications
Basic details

Aluminium casing
Dimension: 53 x 76 x 31 mm (L x W x H)
Weight approx. 110 g
Power supply 8V...30V DC (included)
Antenna external SMA (included)
EDGE class 10
GPRS class 12
PBCCH (SMS via GPRS)
Quad-Band GSM 850/900/1800/1900 MHz
Interface Mini USB 2.0, COM
Operation system Windows NT, 2000, XP
(USB is released for XP)

What's included

ES75i modem
GSM Antennas with SMA connector
Power supply
Data cables
Product images