Cinterion Siemens TC35i GSM Terminal
Part no.:
L36880-N8615-A100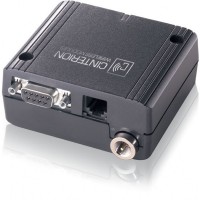 Product description
The TC35i Terminal is a Dual-Band device which has been specially designed for voice and fax communication and applications transmitting a low volume of data. The wireless communications unit is protected by robust industrial housing that also features a series of standard connectors and a SIM cardholder.
Being a standalone device, this plug-and-play solution, comes equipped with standard connectors for power supply, antenna, serial port, and handset.
On account of its focus on GSM communication, and its robust casing, the TC35i Terminal is particularly suited for M2M applications with a low data transfer volume. This makes it a product that can be employed in a wide range of business fields – metering, remote maintenance, transportation and logistics, traffic systems, vending machines, security, and facility management.
Besides this, the TC35i Terminal also comes with a range of approvals permitting its use in conjunction with mobile networks around the globe. Thanks to its full type approval (FTA), you'll be able to keep your certification costs down and consequently lower the total cost of ownership for your application as well!
Technical specifications
General features

Dual-Band GSM 900/1800 MHz
Compliant to GSM phase 2/2+
Output power:
- Class 4 (2 W) for EGSM900
- Class 1 (1 W) for GSM1800
Control via AT commands
SIM Application Toolkit
Supply voltage range: 3.3 ... 4.8V
Power consumption:
- Power down 50 μA
- Sleep mode 3.5 mA
- Speech mode (average) 300 mA
Temperature range
- Normal Operation: -20°C to +70°C
- Restricted Operation: -25°C to +75°C
- Switch off: +80°C
- Storage: -40°C to +85°C
Dimensions: 65 x 74 x 33 mm
Weight: 130 g




Specification for CSD data transmission

Up to 14.4 kbps
V.110
Non-transparent mode
USSD support

Specification for SMS

Point-to-point MO and MT
SMS cell broadcast
Text and PDU mode

Specification for fax


Specification for voice

Triple-rate codec for HR, FR and EFR
Basic hands-free operation
Echo cancellation
Noise reduction

Special features

Inferaces

Antenna connector FME (male)
Plug-in power supply
Handset audio interface
Mini-SIM card reader
V.24/V.28 interface on the 9-terminal sub-D socket
Operating status LED

Approvals

R&TTE, GCF, CE
Local approvals and network operator certifications
Recommended accessories
Following accessories
are recommended
to be purchased along with this product as they might be required for operation and may not be included in this product.