Cinterion TC63i
Part no.:
L30960-N1180-A100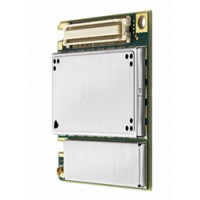 Product description
The TC63i features GPRS Class 12 functionality, an integrated TCP/IP stack over AT as well as idustrial interfaces SPI, I2C bus and USB port. This makes it the perfect choice for M2M applications where a microcontroller is already available and only a highperformance wireless communications connection is needed. Rounding out the product platform, the TC63i embodies the grow-as-you-go benefits of this triple-module package: You can use it to satisfy basic GPRS needs, and as demand for EDGE technology grows, switch to the MC75i without investing money to redevelop the application.
Technical specifications
General features

Control via AT commands (Hayes 3GPP TS 27.007 and 27.005)
GPRS multi-slot Class 12
Circuit Switched Data Up to 14.4kbps
SMS and Fax
SIM Application Toolkit (release 99)
TCP/IP stack access via AT commands
Internet services: TCP, UDP, HTTP, FTP, SMTP, POP3
Supply voltage range: 3.2 … 4.5 V
Operational temperature range: -40°C to +75°C, switch off: > +80°C
Dimensions: 33.9 x 29.6 x 3.2 mm
Weight: 5.5 g




Specification for GPRS data transmission

GPRS Class 12 Max. 86kbps (DL and UL)
Coding schemes CS 1-4

Specification for voice

Triple-rate codec for HR, FR, and EFR
Adaptive multi-rate AMR
Hands-free operation, Echo cancellation & Noise reduction

Special features

Character framing 7E1 and 8E1 at serial interface
SIM Access Profile integrated
RLS Monitoring
Advanced Temperature Management

Interfaces

80 pin Board-to-Board connector
U.FL antenna 50 Ω solder pad
Audio: 2 x analog, 1 x digital
2x Serial interface (ITU-T V.24 protocol)
SIM card interface 3V, 1.8V
USB 2.0 full speed
I²C & SPI bus

Approvals

CE, R&TTE, GCF, UL, FCC, IC, PTCRB
Local approvals and network operator certifications
Recommended accessories
Following accessories
are recommended
to be purchased along with this product as they might be required for operation and may not be included in this product.