Telit GE866-QUAD
Part no.:
GE866-QUAD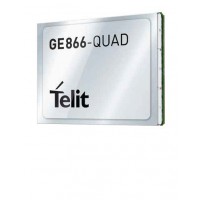 Product description
The GE866-QUAD is the smallest generation in Telit's 2G module portfolio. With its ultra-compact 15 x 19 mm LGA footprint, it is designed for those m2m applications requiring miniature foot print. It is a quad-band 850/900/ 1800/1900 MHz GSM | GPRS communication product based on the market' latest 2G core which allows integrators to plan on availability for even the longest lifecycle applica- tions, highly recommended for new designs specified for 2G coverage worldwide.
Key features
• Easy and low cost to integrate in small application sizes because of ultra-compact and robust LGA package
• Ideal solution for applications in wearable technology products, security alarm systems, automated meter reading and Point-of-Sales (POS) terminals.
• Easy to use in mass-production automated manufacturing
• Fully voice capable with analog and digital audio interfaces
• Battery friendly operates on 1.8 V GPIOs
• System in a Package (SiP) platform for complete m2m solutions with embedded Python Script Interpreter.
• Over-the-Air firmware update through Premium FOTA Management.
Technical specifications
Product features

• LGA form factor
• Quad-band GSM | GPRS 850/900/1800/ 1900 MHz
• GSM | GPRSprotocol stack 3GPP Release 4 compliant
• Control via AT commands according to 3GPP TS 27.005, 27.007 and Telit custom AT commands
• Serial port multiplexer 3GPP TS 27.010
• SIM access profile
• TCP/IP stack access via AT commands
• SIM application toolkit 3GPP TS 51.014
• DARP/SAIC support
• Telephony, emergency call
• Half rate, full rate, enhanced full rate and adaptive multi rate voice codecs (HR, FR, EFR, AMR)
• Superior echo cancellation & noise reduction
• Multiple audio profiles pre-programmed and fully configurable by mean AT commands
• Embedded DTMF decoder
• Point-to-point mobile originated and mobile terminated SMS
• Concatenated SMS supported
• SMS cell broadcast
• Text and PDU mode
• SMS over GPRS
• Call forwarding
• Call barring
• Call waiting & call hold
• Advice of charge
• Calling line identification presentation (CLIP) 
• Calling line identification restriction (CLIR)
• Unstructured supplementary services mobile originated data (USSD)
• Closed user group
• SIM phonebook
• Fixed dialing number (FDN)
• Real-time clock
• Alarm management
• Network LED support
• IRA, GSM, 8859-1 and UCS2 character set
• Jamming detection
• Embedded TCP/IP stack, including TCP, IP, UDP, SMTP, ICMP and FTP protocol
• Remote AT commands
• Event monitor

Data

• Asynchronous non-transparent CSD up to 9.6 kbps
• V.110 GPRS data
• GPRS class 10
• Mobile station class B
• Coding scheme 1 to 4
• PBCCH support
• GERAN Feature Package 1 support (NACC, Extended TBF)

Environmental

• Dimensions: 15 x 19 x 2.2 mm

Interfaces

• 7 I/O ports maximum (1.8 V logic level)
• Analog audio (balanced), digital audio
• 1 A/D plus 1 D/A converter
• Buzzer output
• ITU-T V.24 serial link through CMOS UART:
- Baud rate from 300 to 115,200 bps
- Autobauding up to 115,200 bps

Approvals

• CE, GCF (Europe)
• FCC, IC, PTCRB (North America)

Electrical & Sensitivity

• Output power
- Class 4 (2 W) @ 850/900 MHz
- Class 1 (1 W) @ 1800/1900 MHz
• Power consumption
- Power off: 2 uA (typical)
- Idle (registered, power saving): 0.9 mA @ DRX=9
- GPRS cl.10: 330 mA @ max power level
• Supply voltage range: 3.1 - 4.5 VDC (3.8 V DC recommended)
• Sensitivity:
- 108 dBm (typ.) @ 850/900 MHz
- 107 dBm (typ.) @ 1800/1900 MHz
• Extended temperature range
- 40°C to +85°C (operational)
- 40°C to +85°C (storage temperature)

Software

• PFM (Premium FOTA Management) Over-The-Air Update service
• Python* script interpreter (module takes the application code directly in the Python* language)
• Memory: 800 kB of NV memory for the user scripts and 1 MB RAM for the Python* engine usage
• EASY SCAN ®: automatic scan over GSM frequencies (also without SIM card)