Cinterion EHS5-US miniPCIe
Part no.:
L30960-N3220-A100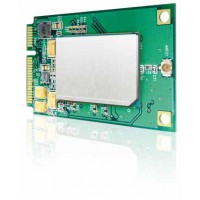 Product description
The Cinterion EHS5 miniPCIe is an easy to integrate data modem card designed to add cost efficient 3G wireless connectivity to industrial systems requiring a mid-range bandwidth demand of up to 7.2 Mbps in the downlink and 5.76 Mbps in the uplink. Leveraging the Cinterion EHS5 module and the standard PCI Express® Mini Card form factor (miniPCIe), the solution provides double dual-band 3G and 2G support enabling geographically optimized Internet access and cloud-based services for intelligent systems with x86-architecture. It is ideal for intelligent systems that frequently transfer large amounts of data such as smart signs that download new advertising campaigns or any solution that requires operating system updates.
With an extended temperature range from -40 °C up to 85 °C, the Cinterion EHS5 miniPCIe is reliable in extreme environments for use outdoors or inside at sites that lack cooling and heating systems. It provides simple plug-in integration via the standardized 52-pin PCIe system connector and works with built-in Windows® and Linux modem drivers easing integration work for intelligent system developers. An optional micro SIM card (3FF) holder allows easy replacement of WiFi miniPCIe card to transform existing applications into cellularbased smart solutions capable of operation anyplace with cellular coverage. With its straightforward installation and regionally optimized 3G and 2G connectivity, the EHS5 miniPCIe enables cost optimized, broadband cellular connectivity for any PC-based industrial M2M application.
Technical specifications
GENERAL FEATURES

Dual-Band UMTS (WCDMA/FDD): 850/1900 MHz
Dual-Band GSM: 850/1900 MHz
3GPP Release 7 Compliant Protocol Stack
SIM Application Toolkit , letter class "c"
Control via AT commands (Hayes, 3GPP TS 27.007 and 27.005)
Supply voltage range 3.0…3.6 V
Dimension: 51 × 30 × 4.7 mm (full mini card size)
Operating temperature: -40 °C to +85 °C
Weight 7.5 g

SPECIFICATIONS

HSPDA Cat.8 / HSUPA Cat.6 data rates DL: max. 7.2 Mbps, UL: max. 5.76 Mbps
EDGE Class 12 data rates DL: max. 237 kbps, UL: max. 237 kbps
GPRS Class 12 data rates DL: max. 85.6 kbps, UL: max. 85.6 kbps
SMS text and PDU mode, cell broadcast

SPECIAL FEATURES

Advanced Temperature Management
Compatible with USB and modem driver of Microsoft® Windows 8™, Windows 7™, Windows Vista™, Windows XP™
Compatible with USB and modem driver of Linux kernel, e.g. Wind River Linux
Parallel COM ports (6) under Microsoft® Windows 8™, Windows 7™, Windows Vista™, Windows XP™ and Linux

INTERFACES

PCI Express®Mini Card system connector (52 pin)
Supply voltage 3.3 V
USB 2.0 HS interface up to 480 Mbps
UICC/SIM card interface 1.8 V / 3.0 V
Reset
Antenna connector: U.FL 50 Ω
Optional: Micro-SIM holder on backside

APPROVALS

R&TTE, GCF (EHS5-E module full type approved)
FCC, PTCRB, IC (EHS5-US module full type approved)

UL