Cinterion MC55i
Part no.:
L30960-N1200-A100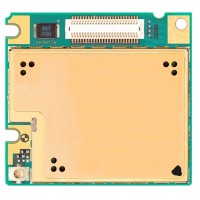 Product description
Following up the successful MC55/56 wireless modules, the MC55i offers improved functionality while remaining compatible with its predecessor. Alongside highest reliability and quality the new MC55i comes with an optimized feature set.
This module packs a Quad-Band GSM/GPRS baseband and TCP/IP connectivity based on GPRS Class 10 data transmission into a very small form factor. Featuring an even more stable but still compatible mount, full shielding, and small size, it brings the benefits of utmost flexibility and robustness to your development efforts.
On top of all this, the MC55i offers a RIL driver for Microsoft® Windows Mobile™ 6-based devices. Equipped with this driver, powerful communication features and interfaces, and an ingenious mounting concept, the MC55i is your all-rounder of choice for machine-to-machine and mobile computing, including metering, security, vending, POS, PCMCIA cards, laptops, and many more applications.
Like all Cinterion modules, the MC55i comes with full type approval (FTA) enabling use across the globe. It has even been certified by the largest carriers worldwide, including US operators.
Technical specifications
General features

Quad-Band GSM
850/900/1800/1900MHz
GPRS multi-slot class 10
Compliant to GSM phase 2/2+
Output power:
- Class 4 (2 W) for EGSM850
- Class 4 (2 W) for EGSM900
- Class 1 (1 W) for GSM1800
- Class 1 (1 W) for GSM1900
Control via AT commands
(Hayes 3GPP TS 27.007, TS 27.005)
SIM Application Toolkit
TCP/IP stack access via AT commands
Internet Services: TCP Server/Client, UDP,
HTTP, FTP, SMTP, POP3
Supply voltage range: 3.3 ... 4.8 V
Power consumption typically:
- Power down: 50 μA
- Sleep mode
(fully registered DRX = 9): 2.5 mA
- Speech mode (850/900MHz): 260 mA
- GPRS class 10 (850/900MHz): 450 mA
Operating Temperature Range:
- -40°C to +70°C
- Protective shutdown
- Storage: -40°C to +85°C
Dimensions: 35 x 32.5 x 2.95 mm
- (incl. B-to-B-Connector: 3.1 mm)
- Weight: 5.5 g

Specification for GPRS data transmission


GPRS class 10: max. 86 kbps (DL)
Mobile station class B
PBCCH support
Coding schemes CS 1-4

Specification for CSD data
transmission


Up to 14.4 kbps
V.110
Non-transparent mode
USSD support

Specification for SMS

Point-to-point MO and MT
SMS cell broadcast
Text and PDU mode

Specification for voice

Triple-rate codec for HR, FR, and EFR
Adaptive multi-rate AMR
Basic hands-free operation
Echo cancellation
Noise reduction

Specification for fax

Group 3, class 2 and class 1

Special features

RIL driver for Microsoft® Windows Mobile™ based devices
Multiplex driver for Microsoft® Windows XP™ and Microsoft® Windows Vista™
Customer IMEI as variant

Interfaces

U.FL-R-SMT 50 Ω antenna connector
Antenna solder pad
50-pin board-to-board connector
- Power supply
- Audio: 2 x analog, 1 x digital
- SIM card interface 1.8 V, 3 V
- 2 x serial interface (ITU-T V.24 protocol)
- Battery charger

Approvals

R&TTE, FCC, UL, IC, GCF, PTCRB, CE
Local approvals and network operator
certifications
Recommended accessories
Following accessories
are recommended
to be purchased along with this product as they might be required for operation and may not be included in this product.