CEP CT63 Terminal
Part no.:
CT63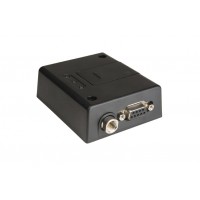 Product description
CT63 Terminal is a self contained unit featuring the latest GSM/GPRS technology from Cinterion (formerly Siemens) including new features like low power mode, USB connection and an EDGE option.
CT63 Terminal is an excellent product for system integrators whose focus is on application development using a ready to use modem with standard connectors identical to the connectors from the TC35/MC35 Terminal.
Technical specifications
Features


Quad Band GSM/GPRS
GSM 850/900 Power class 4 (~33dBm)
GSM 1800/1900 Power class 1 (~30dBm)
Mobile station class B
Extended Measurement Reporting
Compliant with 3GPP Release 99 Protocol Stack


Interfaces

RS232 9pin DSub (autobauding)
USB 2.0 via mini USB connector
Power: 5 - 32VDC (RJ11)
Antenna: 50 Ohm (FME male)
SIM card reader: 1,8V/3V interface with SIM detection
Control by AT commands (Hayes 3GPP TS 27.005 and 27.007)


Data features

GPRS Class 12: max. 86 kbps (DL and UL)
Multiple PDP contexts
GPRS Coding Schemes CS1-CS4
Mobile station class B
PBCCH support
Non-transparent CSD up to 14.4 kbps
Modem Type; V21, V22, V22bis, V32, V34, V.110
GSM supplementary services supported
USSD (Unstructured supplementary service data)
GSM 27.010 Multiplexing Protocol
Fax Group 3, Class1


SMS

Text and PDU mode
Point to point mobile originated and mobile terminated SMS (MT/MO)
SMS cell broadcast


Internet protocol

TCP/IP protocol stack access via AT commands
Multiple sockets with listening/server capability
IPv4 protocol
Dynamic & static IP address allocation
Internet services: TCP, UDP, HTTP, FTP, SMTP, POP3

Other features

SIM aplication toolkit
1 x LED for GSM status
SIM phonebook
Fixed Dialling Number (FDN)
Real time clock + alarm time
IRA character set (seven bit ASCII)
Multiplex driver for Microsoft (R) Windows XP TM and Vista TM as well as Linux
Character framing 7E1 and 8E1 at serial interface
Programmable module reset
SIM access profile integrated
RLS Monitor (jamming detection)
M20 compatibility mode
Read out temperature of GSM module
Different operation modes for GSM LED


Project-based variants

Audio version
USB powered version
EDGE variant
I2C/SPI on 15pin connector
I/O variant with 4 digital inputs, 1 analogue input, 1 digital output and JAVA programming


Physical characteristics

Overall dimensions
(excluding connectors): 77 x 67 x 26 mm
Weight: ~ 100g
Extended temperature range:
-40°C to +80°C


Certifications
Recommended accessories
Following accessories
are recommended
to be purchased along with this product as they might be required for operation and may not be included in this product.